CONNECTION
Salem Oregon Event & Meeting Rooms
From a productive business meeting to life's most important occasions, The Holman's unique gathering spaces inspire creativity and connection. Light filled spaces honor Oregon's
most influential pioneers and feature contemporary art, charm and modernity that are great conversation starters.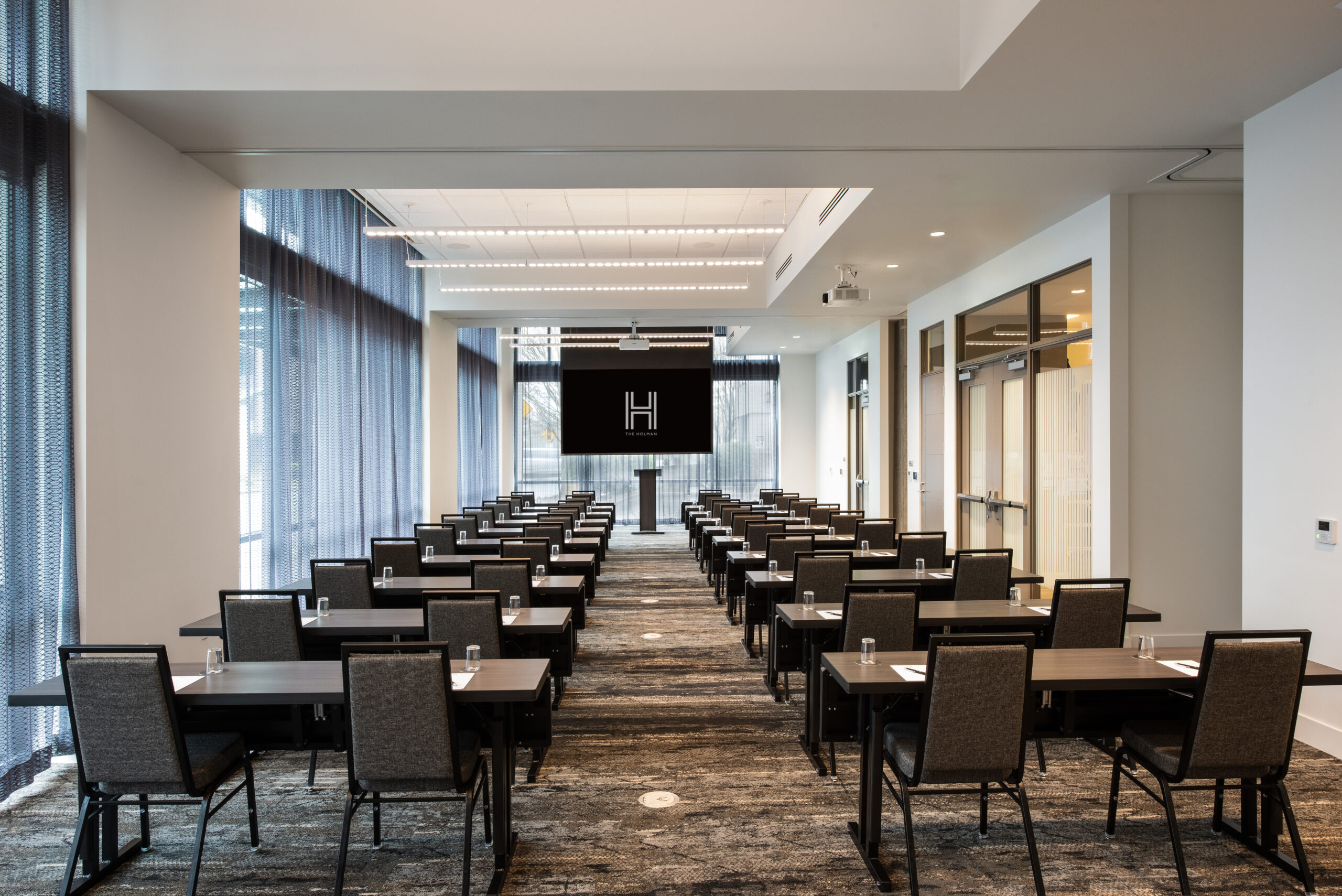 The Holman Ballroom
1,330 total sq. ft. Dimension 65.3' x 21'
Comprised of three sections, The Holman Ballroom is named after Salem's most innovative women.
The Mary Purvine Room
475 sq. ft. Dimensions: 26′ x 21′
Mary Purvine was one of the first female doctors in Oregon. A graduate of Willamette University in 1903, she had her own medical practice in Salem for 50 years.
"She had so much compassion. Even if she didn't get paid, she'd trade services. Her patients were so appreciative of what she did."
– About Mary Purvine
The Anna Duerksen Room
499 sq. ft. Dimensions: 23′ x 21′
Anna Duerksen was one of the founders of what is now known as Salem Hospital, and served as the hospital's only anesthetist.
"In 1896 – Grover Cleveland was President, women couldn't vote, the invention of the radio was 30 years away, and Salem Hospital opened its doors." – Anna Duerksen, founder of Salem Hospital
The Chloe Willson Room
358 sq. ft. Dimensions: 17′ x 21′
Chloe was the first teacher at the school, founded by Methodist missionaries, which would grow under her guidance to become Willamette University.
The Jesse Quinn Thornton Drawing Room
572 sq. ft. Dimensions: 44′ x 13′ Extending from the lobby with relaxed seating and floor to ceiling windows, the Jesse Quinn Thornton Drawing Room evokes creative expression – perfect for group registration, welcome receptions, or a quiet place to enjoy a coffee or cocktail.
Jesse Quinn Thornton – 6th Supreme Judge of the Provisional Government of Oregon and author of the state's motto "She flies with her own wings."
The Joseph Holman Boardroom
361 sq. ft. Dimensions: 25.9′ x 14.5′
Honoring the history of the location in which the hotel stands, the Joseph Holman Boardroom offers sophistication and refinement. Located on the top floor of the hotel with its own private balcony, the Boardroom offers floor to ceiling windows, large executive board table for 12, a 75" television and the latest audio and visual technology.
The Elizabeth Lord& Edith Schryver Suites
Retreat into a world of spacious comfort in the Elizabeth Lord and Edith Schryver hospitality suites. Bespoke and curated through the lens of art, much like their namesakes, these suites are perfect for small business meetings or casual yet refined hosting. Each over 500 square feet, these hospitality suites feature a spacious living area and a full kitchenette with refrigerator, microwave, stovetop, cookware & dishes. Enjoy your own private balcony with top floor views of Salem's Riverfront Park.
Elizabeth Lord and Edith Schryver made the most notable imprints on Salem – the gardens at Historic Deepwood Estate and Bush's Pasture Park. Their contributions to the city of Salem and their longtime community involvement are a highlight in the history of Oregon, and a tribute to pioneering women in business.
"Salem people have never seemed to realize the great privilege we possess to make the city one of the outstandingly beautiful cities in our country." – E. Lord
Group Meetings & Events Let's Get Started Today
At the Holman, we understand that no two events are alike. From small meetings to elegant affairs, our highly skilled and professional Sales and Catering staff will go the extra mile to ensure your event is successful, productive and memorable. Each meeting space is fully equipped with state-of-the-art audio visual, lighting and technical services.
The cornerstone of any exceptional event is the food. You're sure to impress your guests with award-winning artisanal cuisine inspired by the West Coast – organic, local and responsibly sourced. Expect magic and miracles.
Get Started
Weddings & Celebrations Your Vision Starts Here
Whether you are planning a ceremony and reception, rehearsal dinner or post wedding brunch, The Holman will ensure your special day is everything you have dreamed of. With its artful touches, floor to ceiling windows, and flexible configurations, the Holman Ballroom sets the perfect backdrop for life's most memorable moments.
The Holman works closely with the best local florists, entertainers, musicians, and décor companies, and our staff's attention to detail will ensure your event is most memorable. Bespoke and curated through the lens of art, much like their namesakes, the Elizabeth Lord and Edith Schryver hospitality suites are perfect for wedding day prep, or casual, yet refined hosting of family and friends.
Get Started